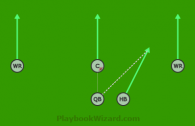 Quick hitting play designed to spread the defense. All players sprint from the line and the throw goes to the player the defense covers the worst.
| | |
| --- | --- |
| QB | Check coverage on the WRs and C first. If a longer pass isn't there check down to the HB. |
All Fly is an offensive 5 on 5 flag football play from the One Back Shotgun Spread formation and is authored by Fantasy Football.