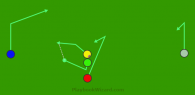 When QB is rushed this option allows a completion & some yardage. a good play for getting your not so great players who get stuck at center involved
Button hooks escape is an offensive 5 on 5 flag football play from button hooks which is a my basic formation to start button hook plays This play is authored by Toddk.
If you like this play try becoming a flag football play designer or take your game to the next level with flag football wristbands.