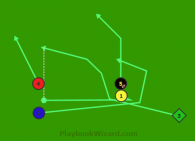 #1 Fakes Handoff to #3 and then rolls right and passes to #3 or the open option.
Stack Left Cross 3 Wiggle Pass is an offensive 5 on 5 flag football play from Stack Left, which is a stack left play authored by Football 101.
If you like this play try becoming a flag football play designer or take your game to the next level with flag football wristbands.