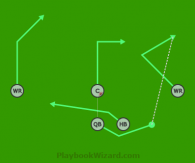 Play action pass where QB fakes handoff then rolls opposite to hit WR on crossing routes or on an out.
| | |
| --- | --- |
| QB | Fake handoff to HB then roll out. |
| HB | Sell the fake handoff to draw the defense with you and open up the opposite side of the field. |
Misdirection Roll Out is an offensive 5 on 5 flag football play from the One Back Shotgun Spread formation and is authored by Fantasy Football.
If you like this play, try becoming a football play designer or take your game to the
next level with football wristbands.