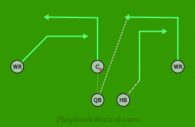 Two sets of crossing patterns – one at each side of the field.
| | |
| --- | --- |
| QB | Watch for defenders getting picked off trying to cover the crossing patterns. WR running the shallow cross is the safety valve if nobody else is open. |
| WR | You're the safety valve – run a shallow cross and give the QB a good target. |
All Cross is an offensive 5 on 5 flag football play from the One Back Shotgun Spread formation and is authored by Fantasy Football.