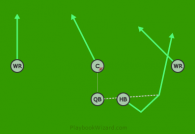 Read the defensive and throw a quick slant to the WR or swing pass to the halfback on that side.
Swing Pass is an offensive 5 on 5 flag football play from the One Back Shotgun Spread formation and is authored by Fantasy Football.
or for other plays check out our football playbooks or become a football play designer.