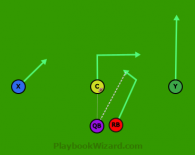 Quick pass to RB coming out of the backfield with the option to throw to the center or X receiver.
Quick Hit Shotgun is an offensive 5 on 5 flag football play authored by Chiavarm.
For other plays check out our flag football playbooks or become a football play designer or take your game to the next level with a wristcoach.