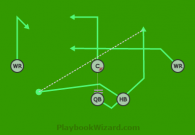 Halfback option with an opposite field throwback to the quarterback.
| | |
| --- | --- |
| WR | Try to take as many defenders across the field with you as possible. Be ready for the check down pass if they don't follow. |
| QB | Ideally you're open on the fly. If not, try to attract middle defenders to clear the crossing routes for the WR and C. |
| HB | Fake the run as you're moving back and toward the sideline. Take a quick look at the QB and throw if open. If covered hit the WR on the curl or one of the crossing routes. |
Halfback Option Throwback is an offensive 5 on 5 flag football play from the One Back Shotgun Spread formation and is authored by Fantasy Football.
If you like this play, try becoming a football play designer or take your game to the
next level with football wristbands.