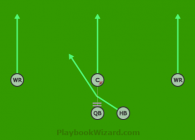 A variation of the All Fly pass play where the HB gets a handoff instead of the underneath pass.
| | |
| --- | --- |
| QB | Check coverage on the WRs and C first. If a longer pass isn't there check down to the HB. |
| HB | Delay to give the coverage a chance to follow the WRs and C on the fly routes then take the handoff and run to daylight. |
All Fly Draw is an offensive 5 on 5 flag football play from the One Back Shotgun Spread formation and is authored by Fantasy Football.
If you like this play, try becoming a football play designer or take your game to the
next level with football wristbands.