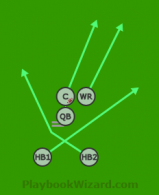 Quick interior handoff to halfback two after misdirection fake to halfback one.
| | |
| --- | --- |
| QB | Turn to and fake hand off to HB1 then continue turn to hand off to HB2. |
| HB2 | Pause to let HB1 cross in front then get to QB and receive handoff. |
Split Back Cross Run is an offensive 5 on 5 flag football play from the Split Back Tight formation and is authored by Fantasy Football.
If you like this play, try becoming a football play designer or take your game to the
next level with football wristbands.