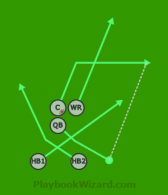 Variation of split back cross run where the second hand off is faked too. Throw is to the opposite side of the field from the second fake.
| | |
| --- | --- |
| QB | Turn to and fake hand off to HB1 then turn and fake hand off to HB2. Roll out then look for C on out or WR on fade. HB1 is check down. |
| HB1 | You're the check down receiver so be ready for the pass if the longer routes aren't open. |
| HB2 | Pause to let HB1 cross in front then get to QB and for fake handoff. The goal here is to take as many defenders with you as possible to clear passing lanes for C and WR. |
Split Back Cross Pass is an offensive 5 on 5 flag football play from the Split Back Tight formation and is authored by Fantasy Football.
For other plays check out our flag football playbooks or become a football play designer.