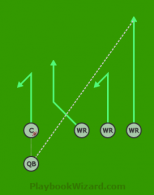 Easy multi-read progression by the quarterback for receivers running a slant, curl, and fly.
| | |
| --- | --- |
| QB | Players will progressively come to the end of their routes – throw to the first read that's open starting at the WR closest to you. If no reads are open check down to C. |
| C | You're the check down receiver. Pause to let WR get the slant if he's open then run your route and be ready for the pass if none of the progressions are open. |
Trips Progression is an offensive 5 on 5 flag football play from the Shotgun Trips Overload formation and is authored by Fantasy Football.
If you like this play, try becoming a football play designer or take your game to the
next level with football wristbands.