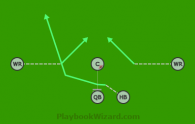 Receivers lined up wide motion in to set up a draw to the halfback. The idea is to confuse the middle of the defensive coverage and leave the outside open for the draw.
Motion Sprint Draw is an offensive 5 on 5 flag football play from the One Back Shotgun Spread formation and is authored by Football Coach
For other plays check out our flag football playbooks or become a football play designer.