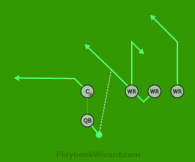 Middle wide receiver step back for a fake screen then runs a slant underneath. The other two receivers run a hitch and a post.
| | |
| --- | --- |
| QB | If the middle WR's defender steps up to stop the screen throw the slant to him across the middle. If the coverage is playing off look to the other wide receivers or the center in the opposite flats. |
Fake Screen Slant is an offensive 5 on 5 flag football play from the Shotgun Trips Overload formation and is authored by Fantasy Football or design your own plays using our football play software
or take your game to the next level with a wristcoach.