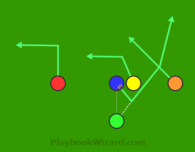 Quick pass to the center who step back off the line of scrimmage, gets the pass, and runs to the strong side of the formation.  The other receivers run routes opposite the flow of the play.
| | |
| --- | --- |
| | GREEN: Get the snap then throw a shovel pass right back to the center (s)he steps off the line. |
Center Shovel Pass is an offensive 5 on 5 flag football play from the Shotgun Spread Strong formation and is authored by Football Coach
If you like this play, try becoming a football play designer or take your game to the
next level with football wristbands.