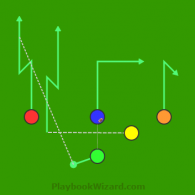 The slot receiver in a shotgun formation motions to the weak side of the formation into a twins alignment with the weak side wide receiver.  Both receivers run stop and go routes and the quarterback throws to the player whose defender reacts to the fake the hardest.
Motion Double Stop and Go is an offensive 5 on 5 flag football play from Shotgun Slot Strong, which is a strong formation with split wide receivers and a receiver in the slot.  This play is authored by Fantasy Football.
If you like this play, try becoming a football play designer or take your game to the next level with football wristbands.