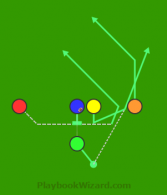 The weak side wide receiver comes in motion and runs a quick slant opposite the motion when the ball is snapped. The same side guard steps back and runs a quick route to the flat underneath the slant route.  Ideally the guard's defender will get caught up in the coverage for the slant.
Motion Slant Quick Flat is an offensive 5 on 5 flag football play from Shotgun Spread Strong,  which is a shotgun spread formation with one of the receivers lined up tight to the center.  This play is authored by NFL Package.
If you like this play, try becoming a football play designer or take your game to the next level with football wristbands.