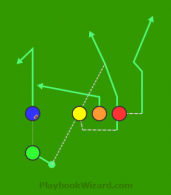 From the Shotgun Trips Strong alignment Yellow goes in motion and goes on a skinny post, Blue does a curl, Red motions outside and then does a corner, and Orange runs a short drag.  Green drops back and passes to Yellow on the skinny post.  The second look is to Orange on the crossing route and the check down goes to Blue on the curl in the middle.
Trips Strong A4C7 Yellow Skinny Post is an offensive 5 on 5 flag football play from Shotgun Trips Strong which is a strong formation, with trips wide receivers lined up on the line of scrimmage to one side.  This play is authored by NCAA Football.
For other plays check out our flag football playbooks or become a football play designer or take your game to the next level with a wristcoach.