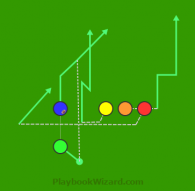 Lined up in a Shotgun Trips Strong formation the three receivers each go in motion before the snap. Yellow motions inside and does a hitch and go, Blue runs a slant, Red goes in motion across the formation to the weak side and does a fade, and Orange goes in motion towards the sideline and does an out and go.
Green takes the snap and throws a quick pass to Blue.  The secondary receiver is Yellow if the defense collapses on the slant and the last read is to Orange.
Shotgun Trips Motion KGOH Blue Slant is an offensive 5 on 5 flag football play from Shotgun Trips Strong which is a strong formation with trips wide receivers lined up on the line of scrimmage to one side. This play is authored by NCAA Football.
If you like this play, try becoming a football play designer or take your game to the next level with football wristbands.