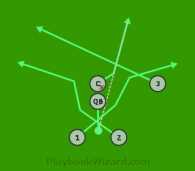 Double PA into crossing route as W3 slants bringing D w/ him leaving Center open up the middle
Double PA Center Seam is an offensive 5 on 5 flag football play from Split Back Tight which is a tight formation with the quarterback behind center, two running backs, and the wide receiver lined up tight. This play is authored by gwiz12077.
If you like this play, try becoming a flag football play designer or take your game to the next level with flag football wristbands.