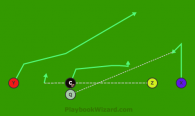 X is primary target, Y comes across to get MB's attention.  Z sits on route in case of opening, also Z work as a pump fake option.
Curls is an offensive 5 on 5 flag football play authored by Team Chester.
If you like this play, try becoming a flag football play designer or take your game to the next level with flag football wristbands.