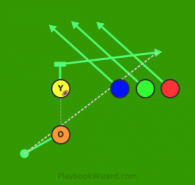 Trips formation with all three wide receivers running quick slants. The center fakes a block the runs a flat route in the space the receivers have cleared.
| | |
| --- | --- |
| Y | Take two steps and stand in blocking position; Count 1-Alligator and release Right after others have gone by |
| O | Slight roll to left to pull rusher that way; Look hard at Blue to throw off Def |
71 – Trips Slant, Center Drag Right (Yellow) is an offensive 5 on 5 flag football play from Shotgun Trips Strong, which is a strong formation with trips wide receivers lined up on the line of scrimmage to one side. This play is authored by Chief Jawa or design your own plays using our football play software.