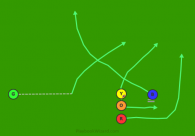 The QB (Orange) takes the snap and runs what looks like an
"option right". The QB and the half back (Red) are running
together and the QB acts like he is trying to hand the ball
off to the running back (Red). At the last second, and
once he has reached the wide receiver (Blue), the QB
pulls the ball out of the running backs "gut", switches the
ball to the other side, and hands it to Blue. The wide
receiver (Blue) should not move, until he has the ball.
| | |
| --- | --- |
| R | Run right and fake reach for handoff from Orange |
| O | Pretend like you are trying to hand to Red; Hand to Blue at last second |
14R – Scissors (Blue) is an offensive 5 on 5 flag football play from I-Formation Medium Split which is a This play is authored by Chief Jawa. For free 5 on 5 flag football playbook or to see this play in action head over to FootballPlaysnow.com