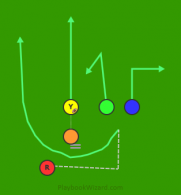 Motion into Triangle Right to shift defense.  Reverse to Red going left.  Can work in reverse as well.
Setup for 70 – Fake Reverse Pass
| | |
| --- | --- |
| R | Motion into triangle Right; Take reverse going left |
13R Triangle Right – Reverse Left (Red) is an offensive 5 on 5 flag football play from Pre-Motion to Triangle Right which is a triangle formation to the right. Empty backfield. Starting position before motion. This play is authored by Chief Jawa.
For other plays check out our flag football playbooks or become a football play designer.