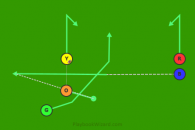 Blue goes in motion fast; Orange snaps before Blue gets there; Fake to Blue; Fake to Green; Pass to Blue
78 – Tiger Right – Pass Blue is an offensive 5 on 5 flag football play from Stack Right Split Left, which is a stacked receivers wide right; RB split left; shotgun or under center. This play is authored by Chief Jawa.
For other plays check out our flag football playbooks or become a football play designer or take your game to the next level with a wristcoach.