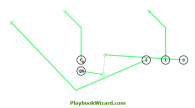 C Flag
1 Post
2 Run left for fake handoff
3 Run down LOS for shuffle pass, turn up field
QB 1/4 turn for open fake, then shuffle pass to 3
Shuffle Pass is an offensive 5 on 5 flag football play from Trips Right, which is a trips Right, all on LOS, QB under center play.  This play is authored by Dtdwils.  To take your game to the next level with a wristcoach or become a football play designer.