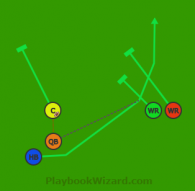 QB throws a short pass to the RB in the flat
Swing Pass is an offensive 5 on 5 flag football play from Twins Right which is a two wide receivers wide right one rb left of qb.  This play is authored by Steven Hines.
Create your own football plays with us. For other plays check out our flag football playbooks or become a football play designer or take your game to the next level with a wristcoach.