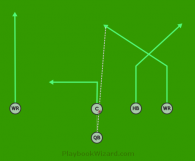 Another play who's good against Cover 2.
C got 5 yard's out (left), left WR got fly, HB/SR have corner and right WR have post.
QB still read safety's and trying to hit post at first.
Almost same thing, only difference is in formation and rout of one of WR's.
Scissors 2 is an offensive 5 on 5 flag football play authored by Shony Ray.
If you like this play try becoming a flag football play designer or take your game to the next level with flag football wristbands.