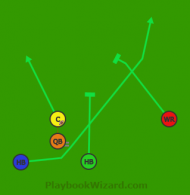 QB fakes handoff to green while blue follows behind green and receives the handoff.
Blue Streak is an offensive 5 on 5 flag football play from Wishbone Right which is a two rb's and a single wr to the righ. This play is authored by Steven Hines.  For free football play maker or to see this play in action head over to FootballPlaysnow.com.  If you like this play try becoming a flag football play designer or take your game to the
next level with flag football wristbands.