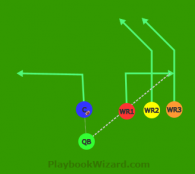 Trips set, up 5 yards and outside 2 WR's posting simultaneously with inside WR running a 3 yard square in underneath the other 2 WR's…center up 3 yards and square out to drag coverage away from primary receiving area.
Trips Up Slant – Inside Receiver Underneath is an offensive 5 on 5 flag football play authored by Coach Pete.
For spread offense playbook or to see this play in action head over to FootballPlaysnow.com
If you like this play try becoming a flag football play designer or take your game to the next level with flag football wristbands.