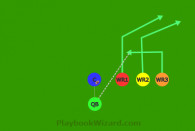 Trips set, Inside WR's 1 & 2 up 5 yards, slanting sharply simultaneously with outside WR3 squaring in underneath WR's 1 & 2…center squares out to drag coverage away from primary receiving location
Trips Up Slant – Outside WR3 underneath is an offensive 5 on 5 flag football play authored by Coach Pete.
For free youth football playbooks or to see this play in action head over to FootballPlaysnow.com.  For other plays check out our flag football playbooks or become a football play designer.