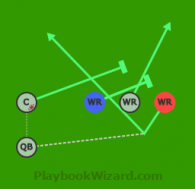 Bubble screen to outside receiver with interior receivers running misdirection routes or blocking.
| | |
| --- | --- |
| C | Take your defender with you on the crossing pattern then block / pick any defenders trying to follow the play (most likely the defender covering the blue WR). |
| WR | Block / pick the defender covering the red WR getting the pass. |
| WR | Be fast! You're going to have to outrun backside defenders and avoid anyone on the inside that's not fooled by the misdirection. |
Bubble Screen is an offensive 5 on 5 flag football play from the Shotgun Trips Overload formation and is authored by Fantasy Football.
If you like this play, try becoming a football play designer or take your game to the
next level with football wristbands.