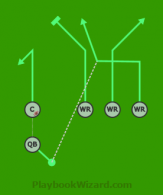 Trips wide receivers with the inside receiver running a post, the middle receiver running a flag, and the outside receiver running an in. The first read is to the receiver on the in – his defender should get caught up in the crossing routes by the inside two receivers.
Cross Under is an offensive 5 on 5 flag football play from the Shotgun Trips Overload formation and is authored by Football Coach.
If you like this play, try becoming a football play designer or take your game to the
next level with football wristbands.