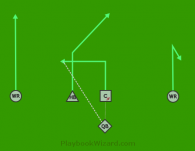 In this play the QB has a roll out.
This play can be played the same on left side (if you have left-hand QB).
Rodeo is an offensive 5 on 5 flag football play from Base, which is a formation with 2 WR's,C and HB/WR.  authored by Shony Ray.  If you like this play try becoming a flag football play designer or take your game to the next level with flag football wristbands.